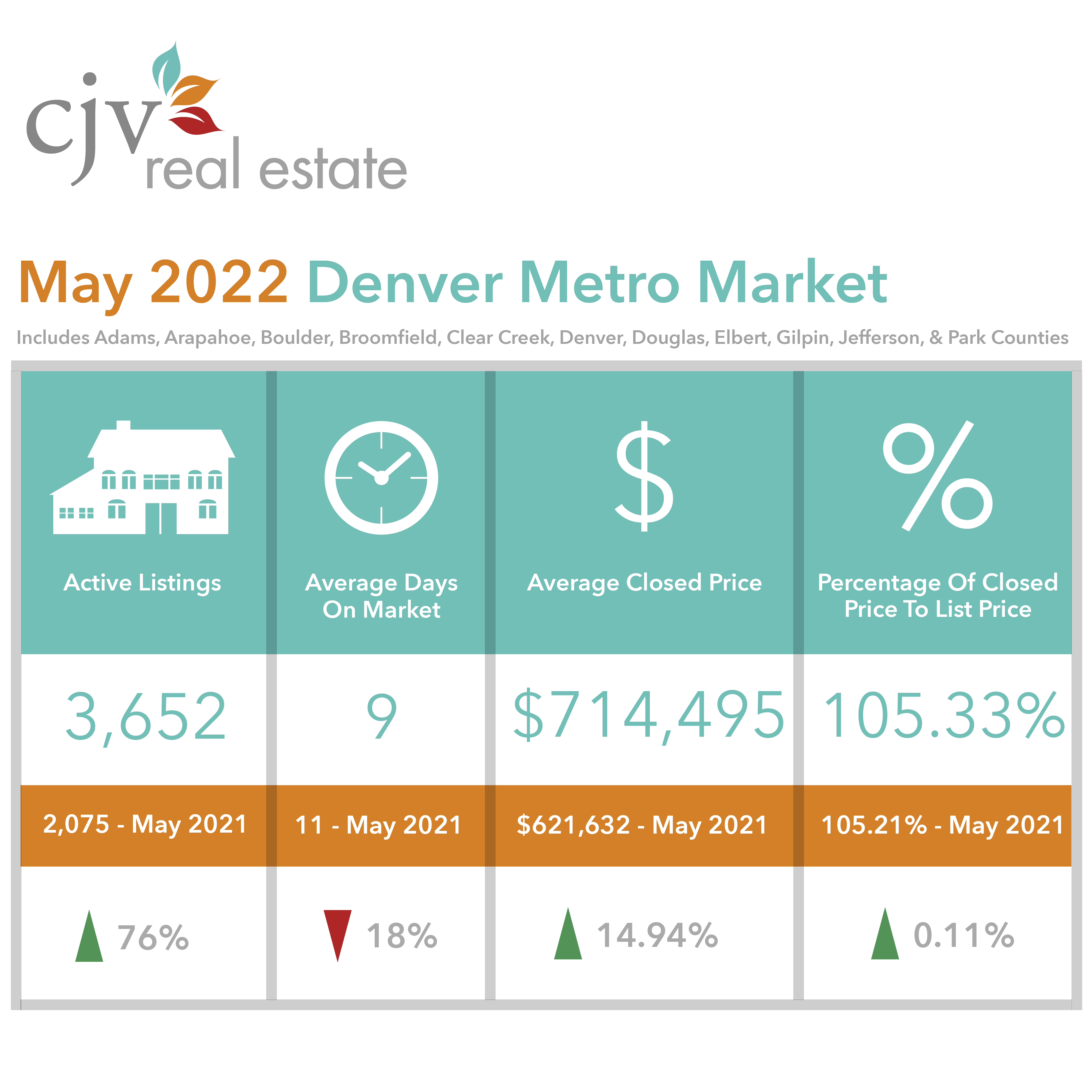 Denver Market Update May 2022
The times, they are a-changing
A summary of some statistics that we track monthly to give you the big picture. Here's a look at May 2022:
There were 3,652 active listings in May, an increase of 76% from the prior year prior.
The average length of time listings were on the market was down to an average of 9 days on the market.
The average closed price was up 14.94% from the prior year, to $714,495.
The percentage of closed price to list price slightly increased to 105.33%.
The pandemic frenzy is over
Well, if a 76% increase in Inventory from May 2021 to May 2022 doesn't grab your attention, I don't know what will! This might seem like an unhealthy jump, but the Denver Metro Area is starved for inventory. We need to triple this number in order to create a balanced market. Inventory is at extremely low levels historically.
Interest rates have doubled from 3% just 6 months ago, to 6% currently. Accordingly, the cost of a loan has increased 30% in just 6 months! With such an increase in home-buying costs, the pandemic frenzy is over and the stats reflect that.
The market has come back to Earth, but this is a new normal
Many would-be buyers have been forced to put their home buying on hold, which is easing the white hot market demand we once had just 60 days ago. Add talk of a recession on top of that, and we may have ourselves a market that is going to have more inventory to work with for Buyers. 

Even that is not a sure thing, however. Sellers will simply adjust pricing and inventory will soon evaporate again due to the pent-up demand. Homeowners locked in with uber low 2-3-4% interest rates may never sell their home – just rent it – even if they buy a new one! Be prepared, for the long haul, to have more expensive loans, and a lower than usual Denver real estate inventory for a long time to come.

2