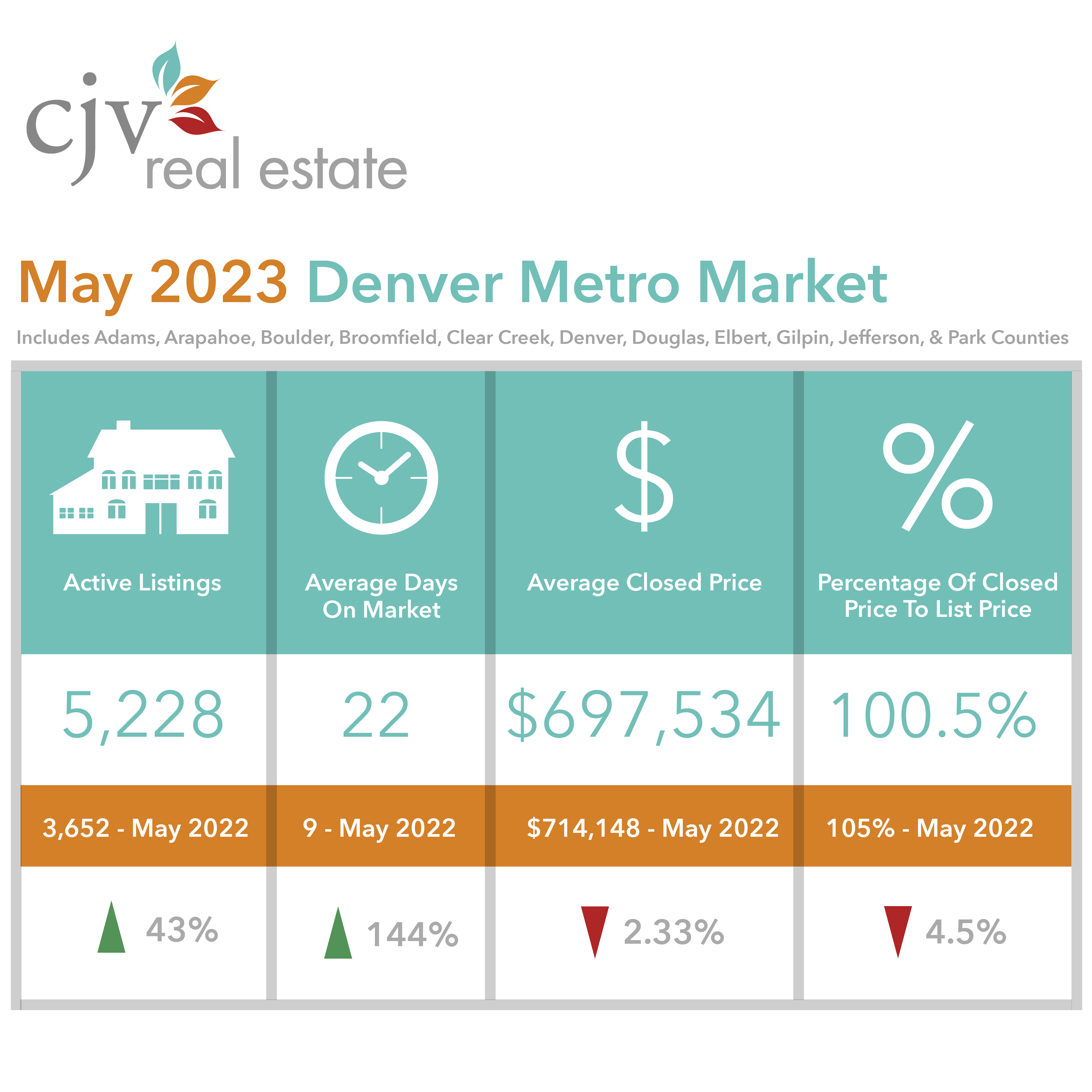 May 2023 Denver Real Estate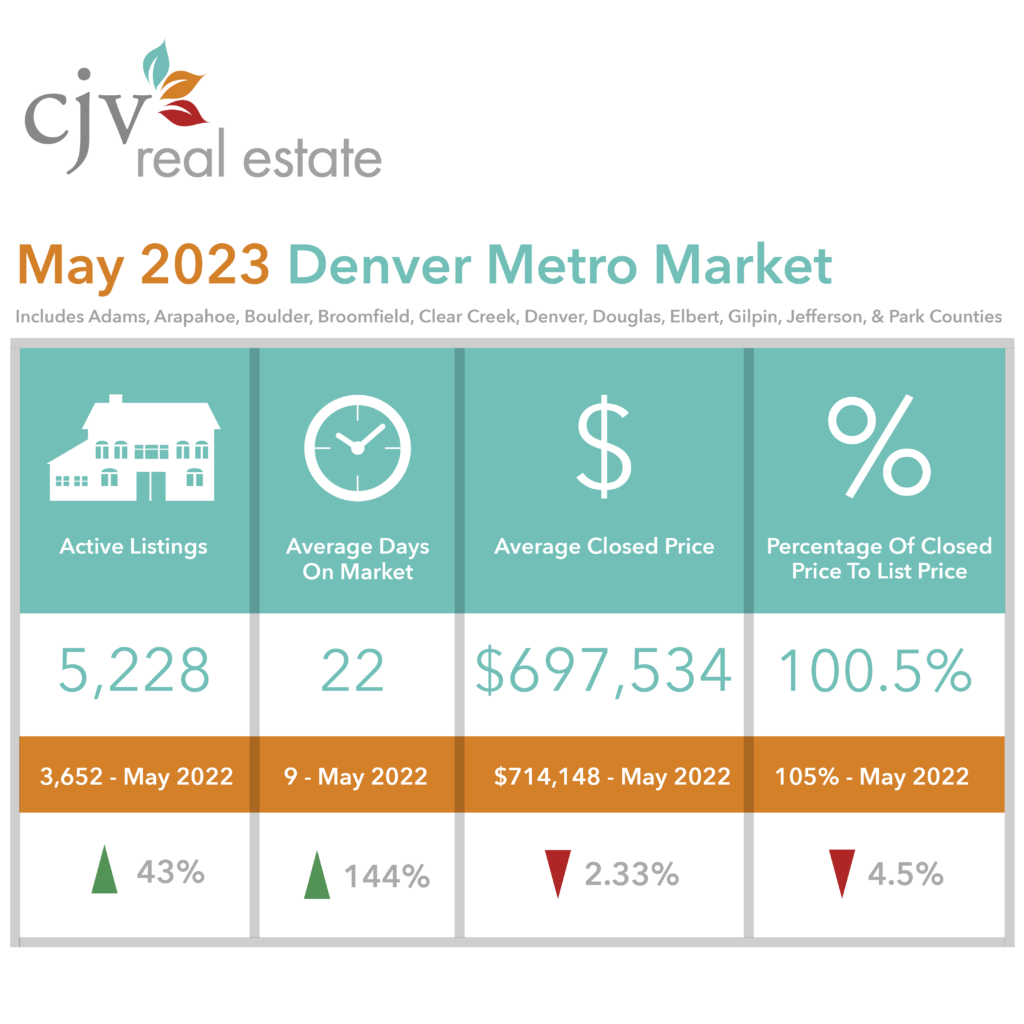 Even though the recent streak of rainy, stormy Denver afternoons remind us of the refreshing essence of Spring, the real estate market transitions into summer. Memorial Day weekend marks the official end of the Spring real estate buying market. Before we delve into the insights of the May 2023 Denver real estate market, it's important to note that closing data, such as prices, typically have a one to two-month lag. Therefore, the average closing price in the May 2023 report reflects properties that went under contract in March and April. The upcoming monthly reports in June and July will reveal the closing prices for the properties that went under contract in May. Therefore, each month's data provides just a snapshot in time of the larger, moving market. Our CJV Real Estate commentary reflects on the broader monthly and yearly trends and provide a clearer picture of the market's movements..
With that context, let's dive into the intriguing details unveiled in the May 2023 Denver Metro Association of Realtors (DMAR) Market Trends report. We will gain valuable insights into the challenges and opportunities that current buyers and potential sellers may encounter in this ever-evolving market. Additionally, we will explore how a CJV Realtor can provide invaluable assistance in navigating the nuances of the Denver real estate landscape
Inventory
The May 2023 DMAR Market Trends report sheds light on the state of the Denver real estate market, particularly in terms of active listings. With 5,228 active listings, there has been a significant 13% increase compared to April 2023. When comparing the current numbers to May 2022, the rise becomes even more apparent, reflecting a remarkable 43% growth. However, it's worth noting that these figures, while showing improvement, still indicate low inventories. The broad shortage of available properties can present unique opportunities for sellers who showcase their homes effectively and list competitively to attract motivated buyers.
Prices
In terms of closed prices, May 2023 recorded a median closed price of $697,534. While this represents a 3% increase compared to April 2023, it also reflects just a slight 2% decrease from the peak prices experienced in May 2022! Prices are holding steady as inventory remains limited. The modest price decrease since the peak indicates stability in the market, offering both buyers and sellers a sense of predictability.
Bidding Wars
The close to list price ratio is another essential metric to gauge the strength of the market. In May 2023, the close to list price ratio stood at 100.5%, showing a 0.5% increase from April 2023. However, when compared to May 2022, there was a 5% decrease from the ratio of 105%. This trend suggests that sellers are becoming more educated about the market conditions and are pricing their properties appropriately.
Days on Market
Additionally, the average number of days a property spent on the market decreased to 22 days in May 2023, marking a 21% improvement from April 2023. However, when compared to May 2022, this figure represents a significant increase of 144%. The longer duration on the market suggests that buyers are carefully considering their options and taking more time to find the right property in a competitive environment.
Challenges and Opportunities for Buyers:
Low inventories pose a challenge for buyers, as competition remains high and suitable options may be limited. Buyers should be prepared to act swiftly when desirable properties become available. Your CJV Realtor can provide market insights, identify hidden opportunities, and negotiate effectively to secure their desired property.
Challenges and Opportunities for Sellers:
Limited inventory provides an opportunity for sellers to showcase their properties effectively, as demand outweighs supply. Accurate pricing and effective marketing strategies are crucial for sellers to maximize their chances of attracting qualified buyers and achieving favorable outcomes. Working with a CJV market expert can provide the necessary guidance to navigate this competitive landscape.
Closing Thoughts:
As we bid farewell to the Spring buying market and embrace the warm days of summer, the May 2023 Denver real estate market reveals a dynamic landscape characterized by low inventories and evolving price trends. With a one to two-month lag in closing data, it's crucial to stay tuned for the upcoming June and July reports to gain a more accurate understanding of the current market conditions. Whether you're a buyer or a seller, partnering with a knowledgeable CJV Realtor can provide you with the expertise to make informed decisions and achieve your real estate goals in this ever-changing market.

2